VIDEOS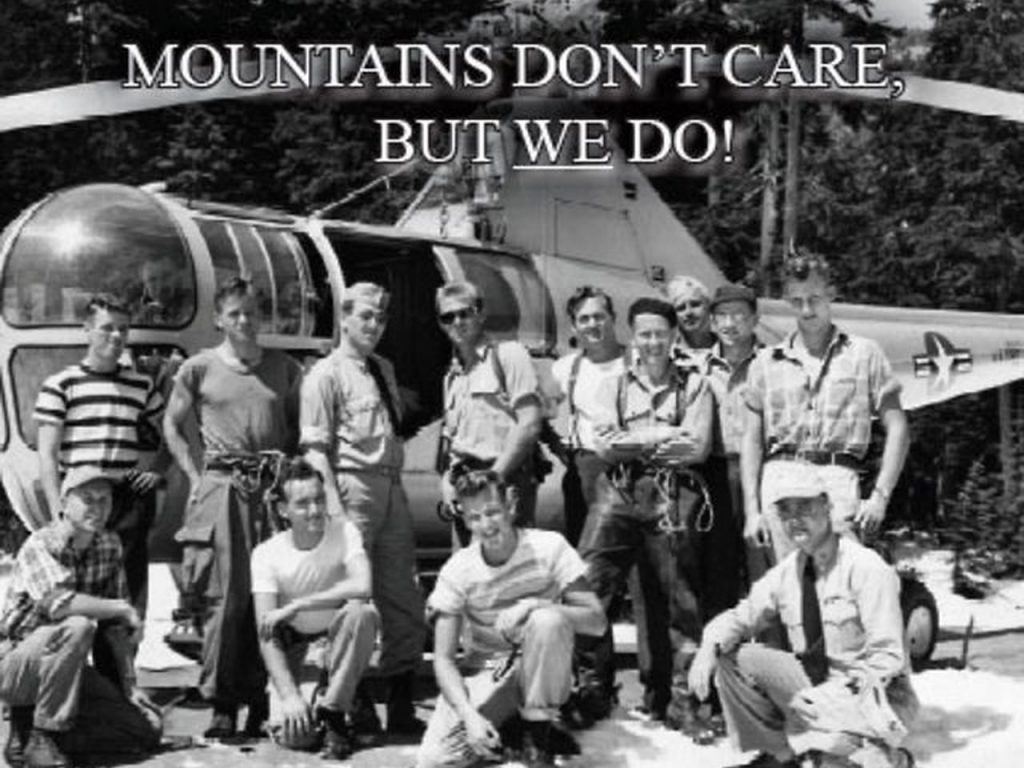 Mountains Don't Care, But We Do!
Watch here
The 30 minute documentary film was produced by Topograph media in 2009 for the MRA 50th Anniversary celebration at Mount Hood. It features Dee Molenaar, Jim Whittaker, Wolf Bauer, Dick Pooley and other key individuals involved in the early history of mountain rescue in the Pacific Northwest. It traces the development of mountain rescue teams in Washington and Oregaon, including the first major operation on Mount McKinley in 1960. The video includes historic photos and film clips from the 1940's and 1950's, and a snapshot of the MRA today. The film won the Special Jury Award at the Mountain Film Festival, Mamoth lakes, California in 2010.
Mountain Rescue Training at the Wilder Kaiser, Austria, 1948
Watch here
The 25 minute film brought back to the USA by Wolf Bauer from Munich Germany was part of the inspiration for founding Seattle Mountain Rescue Council. Seattle was one of the founding teams of MRA, and this film was a key part of MRA history. It includes historic footage of early mountain rescue techniques developed by Wastl Mariner and others in Austria and Germany in the 1940's. This copy was produced by the International Commission for Alpine Rescue (IKAR) in 1998 to honor its 50th Anniversary. In German with English subtitles, and made avaialbe on-line through the courtesy of IKAR.
Special Features

On February 25, 2012 a small group of friends and family gathered in Anacortes, Washington to celebrate the 100th birthday of Wolf Bauer. Jim and Lou Whittaker were there and Wolf was presented with a special ice axe by the MRA.
Wolf immigrated with his family to the US in 1925 and bega a long distinguished career that included pioneering work in mountaineering, search and rescue, kayaking and shoreline preservation. For more information about Wolf and his contributions to outdoor life in the Pacific Northwest search out his book "Crags, Eddies & Riprap – The Sound Country Memoir of Wolf Bauer." Watch a short 3 minute video produced by Topograph Media.
BOOKS

Mountains Don't Care – But We Do
Dee Moleenar traces the formation and evolution of mountain rescue groups that carried out legendary rescue and recovery missions throughout the Pacific Northwest over the past fifty years. In sharing these stories of triumph and tragedy, he remembers the volunteers who risked their lives to save others in peril.
Beginning with an overview of the physical characteristics of the mountaineering environment, Molenaar describes the specific geography of Mount Rainier and Mount Hood, where many rescues and recoveries have taken place over the years. He chronicles harrowing circumstances, including falls, avalanches, climbers getting lost, and a plane crash on the mountain.
Available from Mountaineer Books
HISTORICAL DOCUMENTS
Links to our archives at the University of Washington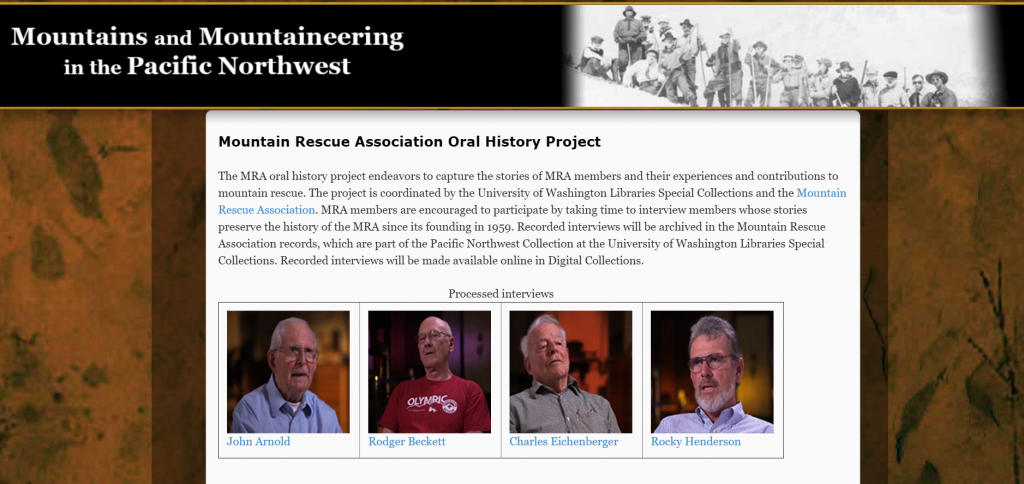 To find MRA documents in the collections below, search for "Mountain Rescue Association"
Mountain Rescue Association Oral History Project
Univ. of Washington Catalog of Special Collections