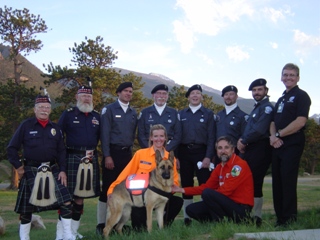 The MRA Honor Guard is a charitable service of the non-profit Mountain Rescue Association. The
purpose
of the Mountain Rescue Honor Guard is
To provide respectful and dignified memorial services for fallen mountain rescue and search and rescue personnel, whether civilian, military, or otherwise, as well as for climbers and mountaineers who die in the course of rescuing others, and for the ongoing honoring of their memories. For these purposes, the MRA Honor Guard accepts no borders and considers all of these as brothers, sisters and family;
To honor our brothers and sisters in the general public safety (emergency response) community on special occasions, memorials and funerals, including law enforcement, fire service, and military; to participate in parades, as appropriate;
To acknowledge the people, both rescuers and families, and the history of the Mountain Rescue Association, including at each annual conference in June, and at memorials and funerals;
To acknowledge and promote the service of mountain search and rescue.
Services Whether passing "in the line of duty" or after retirement from their SAR team, we endeavor to ensure that none go without proper honors and recognition. We do this also for the families and to acknowledge the member's sacrifice and contribution to their community.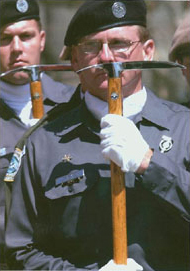 What we ask is assistance with a spartan place to bunk, and whatever travel assistance that the local unit, region, etc. might provide. We have traveled from Arizona to Alaska to New York to Seattle. Standard Honor Guard and Color Guard
protocols
are observed (FM 22-5, AR 840-10, AR 600-25; "Lead with Your Left" by Jay Bishop), with some necessary adaptations where appropriate, covered in our MRA Honor Guard Handbook. The uniform of the Honor Guard is that of the traditional mountaineer, with the colors of the MRA as well as the colors of snow, ice and rock (blue, white, black, gray) as well as paying homage to our founding agencies, teams and personnel, the Mountaineers, Seattle Mountain Rescue, National Ski Patrol, US Army 10th Mountain Division, Aerospace Rescue and Recovery Center (now the AFRCC), the "fathers of US Mountain Rescue" Ome Daiber and Dr. Otto Trott.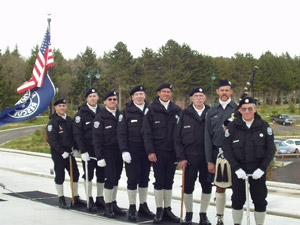 The pipes and drums, as well as some honor guard members on certain occasions, wear the
MRA tartan.
The
weapon
that protects the colors is the ice ax, rehabbed and polished from original Austrian ice axes bequested to us by members from the US Army 10th Mountain Division, MRA founders and our first MRA president, Dick Pooley.
Members
of the Honor Guard are located throughout the continent, and are members of a bona fide mountain rescue unit. They volunteer their time for this duty, many times paying their own expenses.