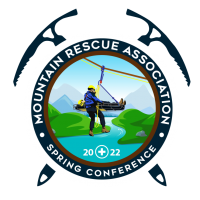 Spring Conference 2022
will be held in Estes Park, CO
DATES: JUNE 10-12, 2022
PRE-CONFERENCE: JUNE 7-9, 2022
Please Visit the Conference's Official Website for further information. rescue equipment. As the only National conference focused on wilderness and volunteer search and rescue, this conference brings SAR technicians and government officials from across the country and the world. Join us for learning, field exercises, demonstrations, and camaraderie.
There will be field and classroom tracks for Mountain and Rope Rescue, Canine Search, Cave Rescue, Water Rescue, Helicopter Rescue, Wilderness Search, Wilderness Medical, and Drones.
All members of the SAR community are welcome to attend. We welcome non-MRA members attending in the spirit of the past SARCON conventions to broaden the knowledge and experience base.
We are looking for sponsors and vendors for this conference. You will have access to hundreds of search and rescue experts and decision-makers from SAR teams from across the country and around the world. If you are interested in becoming a sponsor or have other questions about the conference, please email: mrasarcon2020@amrg.info