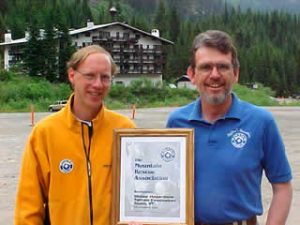 Awards & Recognition Policy and Guidelines
Based on 502 D. 13 Categories for MRA Awards include, but are not limited to;
Outstanding Mountain Safety Education Program(s)
Outstanding Training Program, or Outstanding Development of a Training Program
Outstanding Contribution of a unit or person
Lifetime Service, Lifetime Achievement, or Distinguished Service
Individual Service in Time: 10, 20, 25, 30 years: any number is acceptable
Team service in time: major landmarks, such as 20, 25, 30, 35 years, etc.
Lifetime Honorary Member of the MRA
Outstanding Team (nominated by SAR Coordinator or another unit)
Outstanding SAR Coordinator (nominated by a unit)
Outstanding Contribution of an outside agency or person to Mountain SAR
Conspicuous Bravery or Heroism. Above and beyond the normal demands of duty, performed displaying extreme courage while consciously facing imminent peril. Shall not have violated reasonable safety standards
Life Saving Award. Actions resulted in the preservation of a life that otherwise would almost certainly have been lost
Death or Injury in the course of duty. Should not have violated reasonable safety standards
Other recognition deemed appropriate by the nominator and committee
Tasteful humorous categories

Recipients may be from outside of the MRA, and may be families or spouses
Recipient, team leader and head of SAR authority are desired and will be invited to the ceremony.
Sorry, we are unable to cover travel costs, etc. at this time
Nominations Deadline:
Can be for actions within the past year, for previous years, or may be cumulative recognition
Should be submitted by each April 5th in order to be presented at June Conference
Nominations will, however, be cheerfully accepted year round
Advise your SAR authority or sheriff and team leader that if selected, they will be requested to help present at the Conference.
Review Committee is made up of the Chair, Medical Committee, Operations Leaders and MRA Officers.
Announcements:
Each May 15th.
Nominators, recipients and their public safety agency will be notified by email, etc., and requested to help present the award at the June Conference (or some alternative venue).
Presentation:
June Conference, Saturday evening
Special ceremonies at other meetings, local venues, as needed
Recipients not present will be acknowledged just the same, and the award presented to a team representative, or their region chair until local presentation may be made.
eam leader and agency representative should be dressed in Class A uniform, or other reasonable attire.
Recipient shall receive the award and a copy of the nomination